2022.10.21
The recipients of the 2021 Pokémon Scholarships present their work at 'RCA2022'.
The Royal College of Art's graduation exhibition, "RCA2022," was held from June 25 to June 30 this year, with the two recipients of the 2021 Pokémon Scholarship presenting their work.
Minwook Paeng MA Innovation Design Engineering
Texture Palette is a texture simulating solution for creating the physical experience of VR content. Hardware and software innovations of Texture Palette provide tactile interaction beyond the screen.
The current virtual reality and communication within it are highly audio-visually focused, neglecting other human sensory experiences. Our eyes and ears are engaged, but a vital part of us stays disconnected, our sense of touch.
So, Texture Palette creates artificial textures based on human perception. Users can feel the texture of digital objects in VR content, such as roughness, hardness, temperature, and pattern. This is the next paradigm shift in VR interaction and allows users to interact with immersive and realistic VR experiences.
Phoebe Hayes MA Visual Communication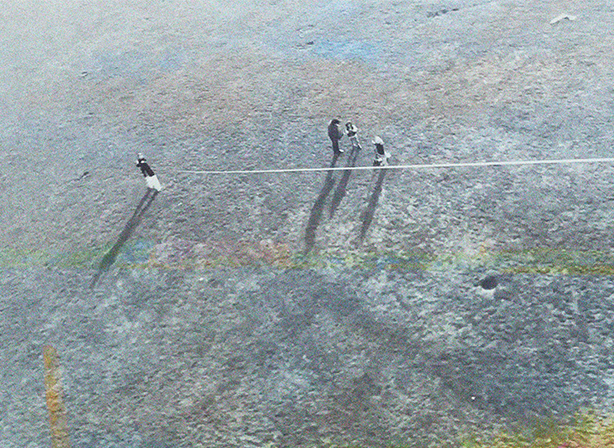 My process involves a critical (re)mapping of the relations between camera and landscape and the personal and political, across an ever-mutating present. My practice is grounded in a desire to methodologically explore alternative experiences and understandings of landscape in relation to concepts of dislocation, slowness and the poetics of information gathering, which are embodied in my practice. I consider how images and sites are encountered, interpreted and misinterpreted; embracing abstraction.
Through exploring high altitude photography and film, I question how we can come up with ways of recording from a human perspective that are alternatives to the ubiquity of surveillance capitalism. Through attaching cameras to flying satellites and balloons, I discover ideas informed by a situated response to the unpredictability of landscape. My most recent project 'Community Satellites' is a durational photography project which documents perspective shifts in distance and time with the aim to see the geographical changes in five, ten and twenty years.